Hey hey! I organized my craft room today after moving from an upstairs room down to the basement to share my office.
I am ashamed to show the before pictures because it was a hot freakin' mess...but here we go...
This half of my office was empty and I had intended for it to be my craft room I just hadn't gotten around to moving everything down here yet.
Here's the mess right after New Years when we were taking down Christmas decorations...
Oh wait...there's more...
Oh yeah...still more...
What tha???
Total and complete chaos and it's been driving me bonkers! Since we weren't doing anything today I made myself a little trip to Dollar Tree and scooped up a bunch of baskets to get my organize on.
Here's how it looks as of 7:00 tonight...I'm not quite sure that I am done, but at least everything has a place now and I am not feeling quite so overwhelmed when I step into this room.
The larger baskets in the back are housing things like craft paint, tapes and adhesives, and tee light candles.
The 2 in the front have chalk (for some reason I have TONS of it) and essential oils...is this a weird place to keep oils?!
Below that my paint removers, stains, spray paints, sample pots and finishing products are nicely organized where I can see them all at a glance.
Here we have the 2 boxes on the top with different string, yarn, twine, etc. in one of them and the other is home to my ribbon collection (can you tell that's a small collection?)
Below that we have a plastic container with all of my cinnamon sticks in it in the back and the round bowl container only has that one ball in it for now. The rest are being used in the house upstairs, but when I swap them out they will go here.
The 3 little boxes hold my hot glue sticks, buttons and glitter.
Below that on the paint shelf is my "junk tub" - I have some paint towels, tons of paint brushes, rubber gloves, sandpaper and sanding blocks as well as a paint tray and 3 rollers in there. The blue tub sitting on top is the one I throw things into when I need to carry lots of brushes and paints and things out to the garage to work on something.
It still looks a little chaotic down there but I promise it's all nice and organized and I know where everything is now!
I LOVE these built ins, they were here when we moved in, there is even a tall coat closet next to this. The man who lived here before us was handy, that's for sure!
Here's a shot of the closed closet. The drawers are filled with things for my office that I don't need access to daily. My dogs big pallet bed sits in-front of those drawers.
Here's the other part of the room that was total destruction...
I decided against hanging my pallet shelf when we moved in, so now it is being put to good use.
I threw a bunch of little things up on the shelf to get them up in my line of sight for whenever I'm browsing for decor for around the house. The things are the very top need attention at a later date so I had to put them where I would remember them!
All of my bottles, jars and vases are sitting on the desk (which was once my vanity but I don't have room for it in the bathroom here, boo!) where I can just grab and go based on color, size and shape.
I've had those tiny owls on the left since the 80's...my mom gave them to me in a knickknack shelf when I was younger and I couldn't part with them. They will be getting a coat of paint eventually to go with my bigger Dollar Tree owls there on the right.
The picture frames and chalk boards are on the opposite wall and all propped up where I can just look and see which size I need and grab it and go! The peg board in the back holds all of the handles and knobs I collect. There are a lot more running down the length of the board, I am not sure what to do with that yet!
There's a hint of the turquoise rocker that I re-did showing in the mirror on the bottom but that's for a later post! :) It's very old and came from my great grandparents.
The last picture I will leave you with is of the storage tin I got at JoAnns Fabric today...it was a whoppin' .69 cents! Oh yeah!!!
Totally cute right? I love me some owls so I had to buy this! I also bought 5 Christmas ones, all various sizes because they ranged from .29 cents to .79 cents. I plan to paint them and use them for different things.
The storage thingy that this is sitting on is what I am storing all of my fabric in, I don't have much so this is perfect.
That's all folks, what did you think? It's not a grand craft room by any means but it's soooo much better than it was this morning!
Love, Kris!
Linking up here: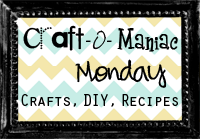 (Dog Days of Winter Linky Party - check it out!)